WHAT IS SNUBA
SNUBA is the perfect cross between snorkeling and scuba diving. SNUBA participants breathe through a regulator attached to an air line that receives air from a tank nestled in an inflatable raft on the ocean's surface. With SNUBA, you can even dive up to 20 feet below the ocean's surface! Simply put, SNUBA is the best way to enjoy our underwater world!
GO BEYOND SNORKELING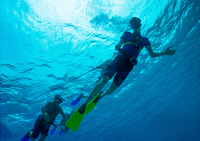 Learning to SNUBA is easy! It does not require any certification or previous experience. Even if you are not the strongest swimmer and have never snorkeled before, you can learn to SNUBA. Perfect for couples, families, children and seniors; our "SNUBA Doo®" program even allows children as young as six years of age to participate. SNUBA is also a great way for certified divers to introduce non-certified partners and family members to the beauty of our underwater world.
SNUBA is a licensed product and program, and is only offered at certified SNUBA Recreational Centers (SRCs) found throughout the world. All SRCs adhere to strict licensing requirements, operating procedures and environmental standards.
We invite you to join us in one of the world's fastest growing resort activities. SNUBA is available for your enjoyment all over the world; click here for a complete list of locations.
IT'S EASIER THAN SNORKELING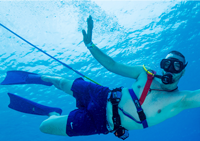 SNUBA allows you to explore a three-dimensional world you cannot enjoy while snorkeling. You breathe through a simple to use regulator while your air supply floats on a comforting support raft at the surface.
Enjoy at any depth: At the surface, 2 feet, 10 feet, or even 20 feet! SNUBA was designed for you to experience our amazing underwater world at your own level of comfort…and your SNUBA Guide will be with you throughout the entire tour.
IT'S AS EASY AS 1..2..3..!!!
1) Participate in a 15-minute safety briefing.
2) Learn how to use SNUBA and what to expect during your guided tour; Get geared up for SNUBA with your mask, fins, weight belt and harness.
3) Swim, breathe and explore underwater at your level of comfort with a highly skilled and certified SNUBA Guide.